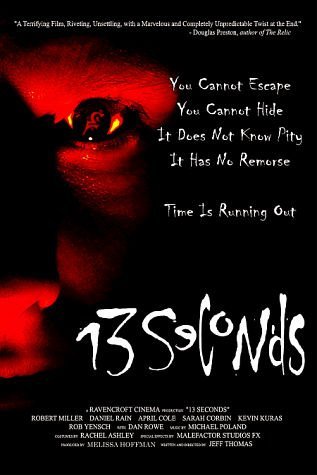 Tagline(s):
You Cannot Escape
You Cannot Hide
It Does Not Know Pity
It Has No Remorse

Time Is Running Out
Nomination Year: 2009
SYNOPSIS:
13 Seconds is about...as long as one can stand this film.
Atrocious acting all around, and I'm sorry, but the "mansion" and "silent movie theater" is a fricking DORM. Weird, incomprehensible, rambling, and did I mention BAD ACTING? The whole cast was on 'ludes.
Essentially: The band Night Gallery is getting back together to record their latest album in this creepy old dorm mansion. They do some drugs. There's an art gallery in the house that shows you how you're about to die. Creepy creatures come out of the woodwork and start offing the cast one by one. "Tell Me To Stop The Pain" is a message repeated on walls in blood. The fat sound guy gets possessed. Finally, after an interminable ordeal (for the viewers), the "truth" is revealed.
Bryan Cassidy